Wound Therapy Transport
Ambulance Service in NJ
24/7 Full-Service Ambulance Transport | Hospice Transportation | Wheelchair Service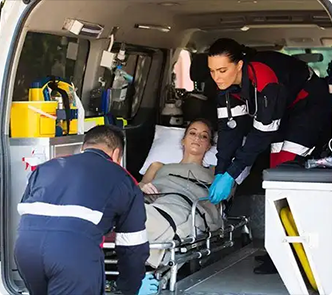 Apex Ambulance provides a wide range of transport options. Many of our valued customers require wound therapy transport, to get them from their home to their wound care clinic and back. Often these transports are covered by your insurance providers.
For some of these customers who are undergoing wound therapy services, taking public transportation is not an option, as they would much rather sit and travel in comfort, and without the hassles of overcrowded bus lines that sometimes run behind and cause them to arrive late to their therapy sessions. When they put in a call to Apex Ambulance, we help them set up a pickup time and designate a pickup area. Once they are comfortably situated in our service vehicle, they receive a pleasant and timely trip to their wound care clinic and eventually get the same comfortable ride back home.
Apex Ambulance also proudly provides a full-service ambulance option for those in need of getting themselves, or a loved one immediate and safe transport to a medical facility. We staff state-certified service medical technicians, who are also trained in providing calm, friendly, and professional service to our customers. The full-service ambulance vehicles are registered basic life support vehicles and are equipped with the necessary tools to ensure a stable time of transport to the needed facilities.
We at Apex Ambulance understand that times are scary and full of uncertainty during moments when 911 transport is not needed but full-service ambulances are required. These moments are often unpredictable and unexpected. Our trained technicians are experienced and can come in when they are needed and help keep the patient and family rest assured that quality care will be implemented during transport to the hospital.
Apex Ambulance is proudly situated in Marlboro, New Jersey, and we offer services to Monmouthcounty communities including but not limited to Manalapan, Freehold, Holmdel, Red Bank, Howell, Jackson, Hightstown, East Brunswick, and Central New Jersey as well. Whether you are in need of wound therapy transport or full service ambulance transport, call Apex Ambulance today for the quality transport services you deserve.
We are driven to be the Best, and we wish to offer you dependable service you can always count on.