Full-Service Ambulance Transport
Ambulance Service in NJ
24/7 Full-Service Ambulance Transport | Hospice Transportation | Wheelchair Service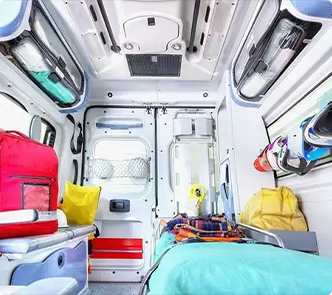 If you or someone you care about is having a difficult time getting where they need to be in a safe and timely manner, then please give us a call today so that we can help you bring a solution to a problem you no longer need to have!
Apex Ambulance offers full-service ambulance transport. Our ambulances are equipped to handle a wide range of medical emergencies, to help ensure the greatest possible outcome for patients en route to a hospital. Our highly trained staff of EMS professionals will be able to provide real-time care in order to stabilize the patient and prepare them for admission to the closest hospital. Also, the drivers are well-trained in securing a fast, and safe passage from the scene of the emergency to the nearest hospital provider.
When these situations occur, having a full-service ambulance transport can really be the difference between life and death. Every minute counts and each of those minutes is matched with the expertise and level of service that we offer.
We found that our clients need a wide range of ambulances for a wide range of reasons. We have basic life support, advanced life support, and specialty care transport vehicles. When you or a loved one are in need of a full-service ambulance transport, Apex Ambulance will be there.
For more information about Apex Ambulance, please contact us today and find out more about how we can help you. Aside from full-service ambulance transport, we offer a wide range of transportation services for our clients, with the hope that we can bring some comfort, control, and connectedness back into their lives. We are based in Marlboro, New Jersey, but we also proudly offer our services to the surrounding communities of Monmouth County, Manalapan, Freehold, Holmdel, Red Bank, Howell, Jackson, Hightstown, East Brunswick, and Central New Jersey.